In all the years that I've been reaching out to truckers while helping them with their businesses, the number one complaint is slow pay or no pay at all.
Trying to keep the doors open for any trucking company, small or large, can be very challenging. Whether you work in only California, which happens to be the most overregulated state in the union, or if you operate throughout the country trying to keep up with all the rules and regulations can be overwhelming. Staying up to date on all the rules of the game sometimes results in taking your eyes off the folks you work for and whether you'll get paid, this is the main subject of my article.
Perform your due diligence and investigate the brokers and contractors you work for, after all good brokers and contractors are checking you out too. One of the great benefits of being part of this association is having the resources and contacts to get some history on the good and bad brokers and contractors. Take advantage of chapter and board meetings and network with your fellow truckers in order to get some feedback on a potential new customer.
Remember the old saying "if it sounds too good to be true, it probably is." Don't fall for the shady statements, like; "I have been in business for 100 years and have many other truckers I can use, but I want to give you a chance" (which means nobody else will work for them) or "I lost money on this project, so please give me a discount on your bill and will I make it up to you on this next job" (the next job never comes).
Also, beware of out-of-town brokers and contractors. Protect your investments and know who you're working for. Do your homework and ask others who may have worked for the broker/contractor. Make sure to ask the broker to show proof of broker bond, file a preliminary lien notice before doing work and make sure to get your tickets signed for every single day. The association was instrumental in creating broker bond as a means of protecting you. Too often we get calls from members who worked for a broker and have not been paid only to discover the broker is not bonded. If the broker isn't in compliance with the law, chances are you could be setting yourself up to get stung.
Construction Broker Bond (California)
As of January 1st, 2011, the law in California (AB 145) required a Truck Broker of Construction Services to obtain a $15,000 "Truck Broker Bond." If a broker does not obtain the bond and engages in brokering activities they can be subjected to a $5,000 fine.
A Truck Broker is defined as "an Individual or Company who arranges for the truck transportation of cargo belonging to others for compensation, utilizing for-hire carriers to provide truck transportation within the Construction Industry."
Basically, if you are a trucker of construction material and handle other truckers' money, you are required to obtain this bond.
$75,000 Broker Bond (Federal)
As more of our members have expanded into performing services across state lines (interstate), federal regulation offers truckers even more financial protection. Whether you are hauling rock, sand, gravel, or general freight, the minute the load crosses a state line the broker MUST be federally authorized and meet financial responsibility requirements that includes posting a $75,000 bond. Proof of financial responsibility in the form of a bond or trust fund has been a prerequisite for licensing as a broker at the federal level for decades. Bluntly, if you are accepting loads going to/from Oregon, Nevada, or Arizona the broker must be federally authorized and post the much larger bond amount.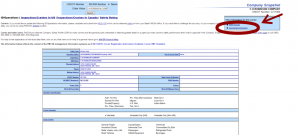 The FMCSA will not issue a freight broker or forwarder license until a bond or trust fund is in effect and requires proof to be filed electronically on the agency's website. Forms used for this purpose are the BMC-84 and BMC-85 respectively. If the bond lapses, the brokers federal authority is cancelled and you can easily check the broker's status and bond information on FMCSA's website by following this link: http://safer.fmcsa.dot.gov/CompanySnapshot.aspx enter the brokers name or US DOT number and you will be taken to the Company Snapshot page where the brokers Operating Status will be displayed. If it says "Authorized for Broker Property" they have a bond in-place. To find out who their bonding company is go to the upper right blue box and click on the Licensing & Insurance button. Open the HTML file and then click on the link for "Active/Pending Insurance." The surety bond information will be located on that page with the contact information to file a claim.
I have continued to have much success informing brokers of their obligation to post the required bond when we've had complaints of illegal brokering. Many of those who I contacted not only acquired the bond, but end up joining the association. Those who do not play by the rules and still decide to broker trucks know they are on my radar and I'll inform truckers.
Also, remember to protect your lien rights by filing preliminary notices by utilizing California's 20-Day Notice procedure or the nationwide preliminary notice requirements. These forms can be easily found on line and you can do it yourself, or you can call one of the WSTA's affiliate members who perform this service and are listed in the WTN magazine affiliate directory and online.
Please do not hesitate to call me at 909-329-5673, if you need some guidance navigating through the work environment land minds. I am fortunate to know most of the good guys but also unfortunately know many of the bad players too. Pay attention to the red flags, because it is easier to be proactive and safeguard your money up front before the work is performed. We can help you with options on collecting money, even if you do all of your due diligence and are having difficulty collecting your money.
Good luck in this New Year, 2016. Make it a prosperous and successful year.
This post is also available in: Spanish
http://americanlatinotruckers.org/wp-content/uploads/2015/10/CALT_header600.jpg
0
0
Publisher
http://americanlatinotruckers.org/wp-content/uploads/2015/10/CALT_header600.jpg
Publisher
2016-02-25 20:25:49
2016-02-25 21:26:19
Work Smart in 2016: Protect Your Investment and "Trust but Verify."